Woman arms will look dull and boring without proper piece of Bangle and bracelets especially if she is an Indian. So keeping in mind their ever changing jewelry selection many new pieces of arm jewelry has been launched in market.
It is available in both offline and online market. Every piece of jewelry that adorns a woman's physique from hair to toe is always getting modified with new designs. It is based on demand and recent trend. A bangle among all jewelry enhances the beauty of Indian women and makes her timelessly vivacious. Traditional heavy bangles will always hold a special status. It is part of Indian culture but nowadays many branded jewelry shops also offer wide range of light bangle collection. There are different types of bangles available on any base metal it silver, gold, and platinum or any gems. It is studded in keeping in mind the fashion and styling factors.
Trending jewelry overview:
Among the arm and wrist jewelry collection, light weight bangles have become a quite popular choice for every woman. They are fashionable, lightweight and easy to use and carry. From girls to women everyone is always in search of light bangles when it comes to bangle selection. These light bangles are easily available in any jewelry store be it an authorized retailer or roadside imitation jewelry shops. These exquisite bangles come in various colors, metals, unique designs and prices. Large section of school and college going girls will simply buy stylish light piece of bangle from imitation shops. But when they want these bangles made in gold or any other precious metal then they stick to lightweight concept. One can simply buy these bangles for themselves and as a gift to others. Light weight bangles have become a huge craze among women of all age groups and naturally.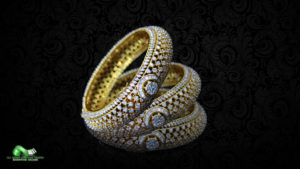 New designs are available:
Many new pattern and designs have flooded the market. Fashion designers are introducing latest light bangles and there is huge demand for these bangles in online shopping also. The online and offline retailer has some exclusive range available for affordable price. Bangles hold a special place in Indian wedding of every community. It signifies the auspicious essence of the occasion and is especially worn by married women. But now western fashion has also included this jewelry designed in the unique pattern. It is gaining popularity among every stylish woman across the world. Bangles are one of the earliest forms of jewelry and have use by men and women alike for centuries. During these years, bangles have reappeared time in slightly different motifs but have always retained their simple design. Today, whether simple or ornate, bangles still possess strong religious and cultural symbolism in some parts of the world.
They are also ideal gifts that can be hand down through a family as heirloom items. When buying bangles, one of the most important elements to put in mind is the size. If it is too small, then it just won't fit; if too big.